I have been dreaming about all the exciting things we're planning on doing to the house ATW (after the wedding.) That dreaming includes a lot of perusing
Anthropolgie
and some of my other favorite stores.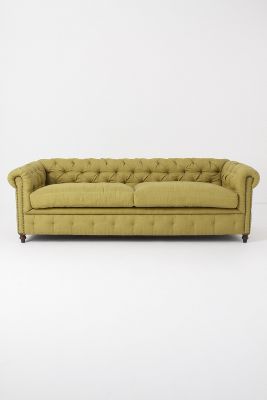 Isn't it gorgeous? Price tag: $2,498. I pretty much love anything tufted, and when you add on the nail head trim on the arms, I'm madly and obsessively in love. I wondered to myself when drooling over this sofa: I wonder if I could find something like this
used.
And so off I went to craigslist, where I searched in furniture for sale, and typed in "vintage sofa."
Look at
what I found
!
Technically you could re-cover it, but personally I like the mustard yellow. I would love to refinish the wood though, to a white-distressed. And actually, wouldn't it be cool if the primer was gold, so the distressed portions showed a little gold? Sigh. You could even, gasp, add a nail head trim to the front, underneath the cushions, and around the wood trim on the arms.

Price tag for this one: $550, which includes a matching loveseat.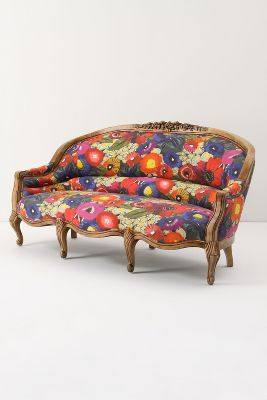 This one is $2.498. Isn't it cool? A little wild I'll admit, but what a great accent piece! Everything else could be white, and then BAM. Blazing poppies.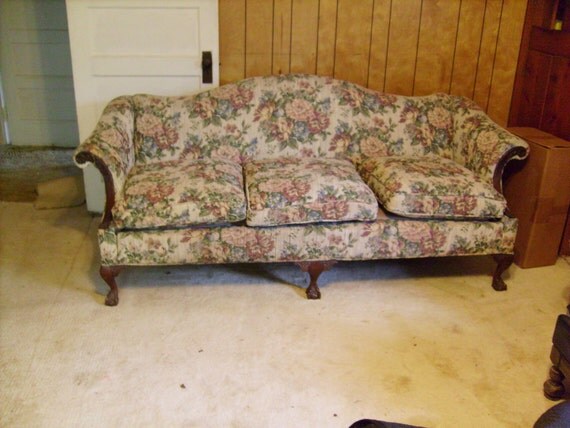 Finchleigh Camel Back
Wouldn't it look great covered in something like this:
Garden Gate fabric from Tonic Living, $9.95 per yard
And if you're not into buying used (vintage), there are plenty of new, inexpensive options in local retailers.
Head on over to
World Market,
and there you will find this, the Erin Cute-as-a-Button Loveseat:

Guess how much she costs? $449.99. If you like the tamer look, you can stick with the fabric choice. Or, for about $9.95 a yard, you can re-cover it with something like this from
Tonic Living
:
Varenna in Sky
More sighing. Oh, to find the time.
I guess you could just bite the bullet and buy the expensive versions, but where's the fun in that?
What do you think, Anthropologie or craigslist, Ethan Allen or Etsy? Tough call, I know!